Pastor
The Reverend Susan C. Henry
Pastor Susan Henry calls worship, pastoral care and faith formation her favorite parts of ministry. As House of Prayer's pastor since 2008, she has introduced us to Godly Play, led us to be a teaching congregation that often serves as an internship site, and keeps inviting us to let the stories in Scripture make their home in our hearts. Pastor Henry has a particular interest in the relationship between art and faith. She served on staff at Camp Calumet, and camps there with her whole family for a week each summer.
A graduate of St. Olaf College and Andover Newton Theological School, she previously served as a pastor at St. Paul Lutheran Church in Arlington MA. She grew up in Ohio, lived and taught in New York City and at a co-operative children's center in RI where she incorporated practices from her Montessori training.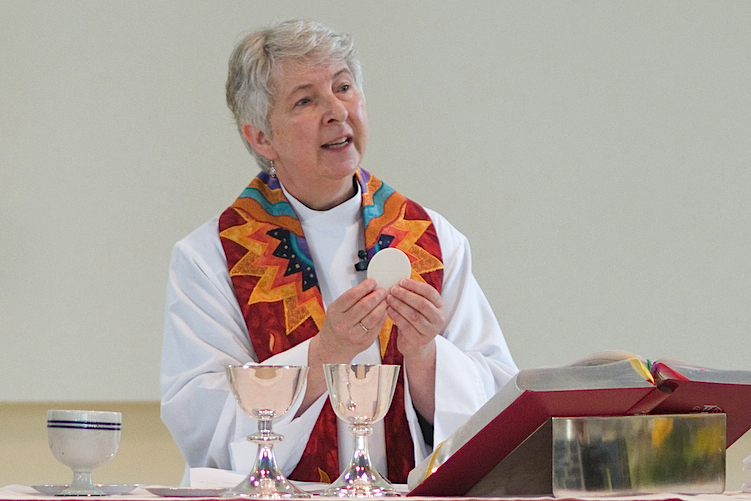 Staff
Minister of Music
Lenae Wisner Badger
House of Prayer's Minister of Music, Lenae Wisner Badger, is a Florida native who came to the Northeast for graduate studies, fell in love with New England, and never went back! She holds a Bachelor of Music degree in Organ and Church Music from Stetson University in DeLand FL, and a Master of Music degree from Yale University/Yale Institute of Sacred Music. Lenae is also the accompanist for two local choral groups -- the Broad Cove Chorale and the Unicorn Singers, teaches piano and voice privately in her Scituate home, and plays the 10-bell chime in Scituate's Lawson Tower. She is a frequent pit musician for local theater productions, a substitute organist/pianist/singer for local church weddings and funerals, and is a recital accompanist.
Church Administrator
Kristen Croke
Kristen Croke, the Church Administrator since 2007, is a graduate of UMass/Boston and Boston University. A life-long Lutheran, she was confirmed at House of Prayer, and she is one of many multi-generational families who are members of the church. Her organizational skills are put to good use managing the church office, producing weekly bulletins and other materials, scheduling the many groups that use the church on a regular basis, and keeping official records up to date.
Staff
Pastor Susan Henry
Lenae Badger
Kristen Croke
Church Council Officers
President
Carla Hill
Vice President
Kathleen Almand
Secretary
Kathleen Almand
Treasurer
Kristine Niendorf
Financial Secretary
Sandy Swanson
Lay Preachers
Vicki Oman
M.A. in Religion, Boston University

Janet Waters
M. Div., Harvard Divinity School
At Large Council Members
Linda Vassallo
Naomi Just
Caroline Linscott
Jacqui Lyons
Mike Vassilopoulos
Scott Hudson-Bryant
Dana McGivney
Vicki Oman
Committee Chairpersons
Christian Education
Kim Boyd
Evangelism
Open
Facilities
Scott Morad
Finance & Stewardship
Jacqui Lyons
Parish Life
Open
Shepherds
Barbara Buntrock
Linda Lundin
Social Ministry
Cathy Martin
Worship & Music
Sandy Swanson